VOTE YES to CONNECT NC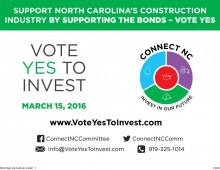 The Connect NC Bond will be voted on during the March 15 election. Please take the time to visit the website (http://connect.nc.gov/). The $2 billion bond will connect North Carolina to the 21st century through statewide investments in education, parks, safety, recreation and water and sewer infrastructure with NO tax increase and NO new tax. The Bond will create multiple construction projects for our industry. One of the main concerns for North Carolina and the construction industry is the future of our workforce. This Bond will be investing in universities and community colleges that will help attract, train and develop our workforce. Hopefully, a strong workforce will attract new companies and industries to move to NC!
We hope you will chose to support this Bond because it is VERY important to our industry, the economy and the future of North Carolina.  If you have any questions regarding the Bond please feel free to ask me and I'll try to get you an answer!
 STRONG NC = ADAMS STRONG 2016