BIM/Virtual Design 
Adams Electric supports our own in-house Virtual Design Construction (VDC) Team. The In-House Team consists of Building Information Modeling (BIM) staff and technology providing complete Integrated Project Delivery (IPD) on all VDC projects. VDC integrates people, systems, business models and construction practices into a collaborative process that adds value to the owner through reduction of waste and maximized efficiency during construction. Adams believes in using up-to-date technology devices, design hardware and software with all VDC projects. We use many different design platforms including but not limited to; Autodesk Revit, Navisworks and AutoCAD. These technologies are operating on current platform releases while also having the capability to work in older versions (2013 – older) as some projects may require.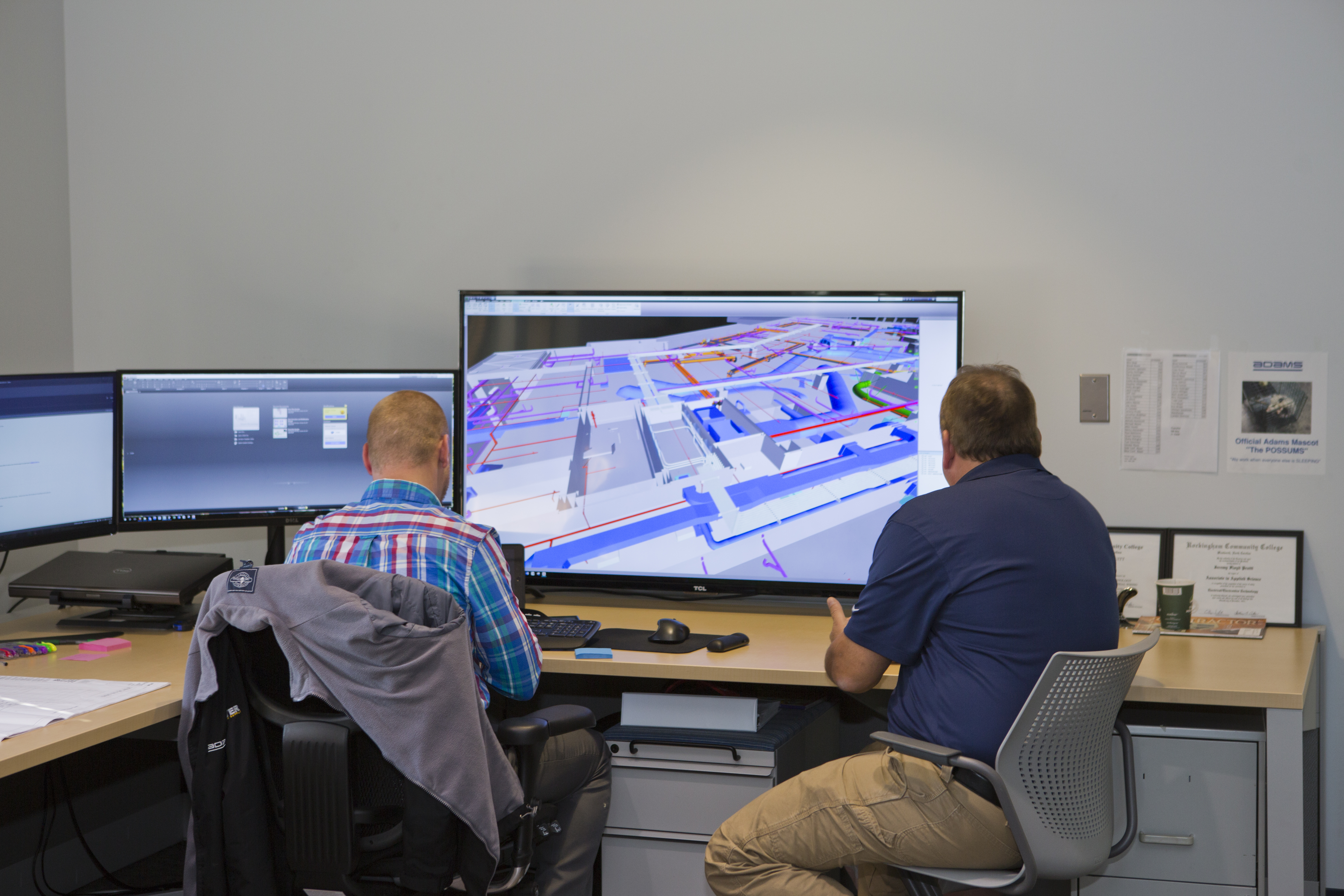 The Benefits of BIM
TO THE ENTIRE CONSTRUCTION TEAM:
Improved communication
Improve productivity
Increased quality control
Organized timeline of construction
Control of materials and waste and increase accuracy of installations
TO THE CLIENT:
Decrease engineering costs on future work or renovations
Reduce overall construction costs (estimated 1% of the Total Project Cost)
Maintenance / Owner utilization upon completion (i.e. submittals, lamps, ballast, fuses, etc.)
TO THE GENERAL CONTRACTOR:
Reduce field coordination time
Eliminate field discrepancies
Assists Pre-Fabrication process
Help estimate quantities for take-offs and cost estimating
These benefits result in a potentialLY better price, budget control and future continuation in savings for our clients.
Adams Electric executes all Building Information Modeling In-House. We believe having our own BIM team improves schedule requirements and control of modeling. The project team works with support from the BIM manager and experienced system operators. The Adams Electric BIM team uses a range of Design Suite software by Autodesk as our main BIM platform.  This software includes AutoCAD, Revit and Architecture, Navisworks Manage, 3Ds Max 2, Inventor, Sketch-Up and Adobe. All technology remains current and up-to-date on a yearly-basis; we have access to software in versions 2012-2015.
Layout experience for BIM projects includes but is not specifically limited to the following items:
 ½"-4" conduit
Conduit racks including feeders and distribution
Roof electrical
Electrical room layout
Large gear layout
Generator layout
Major bus duct
Lighting
Cable Tray
Specialty rooms
Systems
Seismic
Underground feeders and distribution
Coordination of all trades work
Submittal data attachment
Operations and maintenance data attachment
Testing data attachment
Build custom families
Clash detection
Generate simulated model scheduling and phasing
Level 300, 400 and 500 experience
BIM design build experience